HOOT Print Issue 14 November 2012
To purchase copies of this issue (which can be used as postcards), please go here and specify "Issue #14″ at checkout.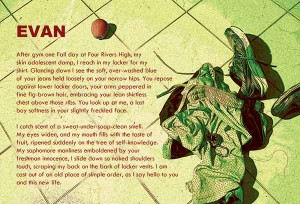 EVAN
poem by James M. Croteau
[audio:http://www.hootreview.com/wp-content/uploads/2012/11/Evan.mp3]

Jim Croteau lives in Kalamazoo, Michigan with his partner of 28 years, Darryl, and their two labrador retrievers. He is a professor and psychologist dreaming of being a poet. This is his first published poem!