HOOT Online, Issue 40, May 2015 – Micro Fiction, Poetry, Memoir, Book Reviews
Before the Beginning
by Rebecca Lauren
Artwork by Sean Dillon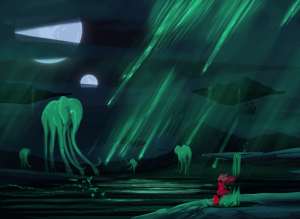 My world was made on a rainy day
but no one cared, least of all me
least of all my galoshes.
On a riverbank, Daddy sings The corn is as high
as an elephant's eye and I believe him because
elephants were born here too.
They come out at night, make
footprints that fill into lakes.
My mother says, Stay away from the mud.
Keep your soles clean.
Krause Springs.
by Jesse Berton
Kids spinning off a swing,
cicadas rise up the thighs of afternoon,
wild honey, and the water seeping up
out of the ankle-eating rocks.
Stop. Stop. Don't think that you can talk
your way into a day
like breezing through a louvered skirt.
Quiet is the only thing that works.
I want to say nothing. I want to say
I want to say nothing.
Rebecca Lauren grew up among the cornfields of Pennsylvania where family tradition was to sing whenever it reached as high as an elephant's eye. She lives in Philadelphia and is managing editor for Saturnalia Books.
Jesse Bertron's poetry has recently been published in Pocket Guide and The Ilanot Review. He is co-director of Poetry at Round Top, an annual festival in the Texas Hill Country featuring the nation's best poets. A native Austinite, he has worked as an actor, a middle school teacher, and a carpenter. He will be pursuing an MFA at Vanderbilt University next fall.