by Ian Wallace

Artwork by Maya Horton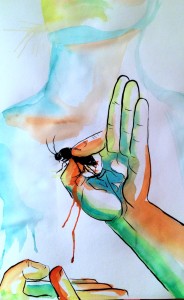 I've been reading a lot about the Buddha.
The curse of rebirth.
So, I've been stepping on cockroaches,
kicking puppies and
yelling at my wife,
a lot,
just to get the chance to be
cursed enough
to be reborn
an infinite amount
of times and
have another chance
to talk with you.
Dan Portincaso is a writer and educator.  He is an Assistant Professor of English at Waubonsee Community College and teaches composition, fiction, and creative nonfiction writing. He grows and cans his own tomatoes for gravy.

Charlie Fornia is a multimedia artist living in Ocean Shores, WA.  He received his MFA in studio Arts from the University of Illinois at Chicago in 2006.  He currently works as a high school Media Arts and Technology teacher.

Ian Wallace writes in a quiet office in North Carolina. He bakes. On a good day, the cat will be near. His work has appeared in Cairn, Cheap Pop, em:me, and Split.