HOOT Online Issue 35, October 2014, Micro Stories and Poems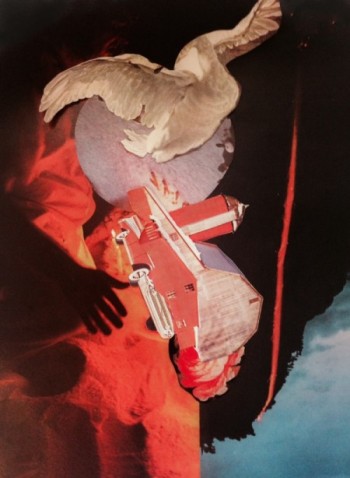 WINTER IN PRAGUE (The First Red Snow)
by Vincent Poturica
Artwork by Heidi Turpin

The fortuneteller predicted that the walls of my first house would be red. Red as
your papa's first car, the fortuneteller said.
I asked him how he knew my papa. I'd never met my papa, but he sometimes
visited my dreams riding on a giant crane and asking me for cigarettes I didn't have.
The fortuneteller said, Of course I know your papa! Your papa says he is so
happy the walls of your first house will be red, red as the first snow.
I said, Snow isn't red.
The fortuneteller said, Oh ho ho! The first snow isn't red!
Outside snow was falling. The flakes stuck to the window. The flakes were
red.
My papa's ghost opened the window. He poured wine into a coffee mug. He
shook the fortuneteller's hand. He kissed my head. Then he asked me for the cigarettes
I didn't have.
STANLEY
by Ethan Yarbrough

African Grey Parrots can live 80 years.
That, alone, was reason enough for Kim to get rid of Stanley a year after she brought him
home.
I didn't miss him.
Kim would let Stanley out of his cage and watch him fly trough the apartment. I got tired
of cleaning his shit off the microwave. Everything I'd read about parrots said you should clip
their wings for their own safety.
"A bird is its wings," Kim insisted. "No one wants to see a bird walk."
She taught Stanley to say mean things to me. He called me dream killer over morning
coffee. When I watched football on Sundays, Stanley said I didn't know how to love.
I told Stanley to ask Kim about her custody plans in the event neither of us lived to be
one hundred and ten years old.
"Pick up your socks," was Stanley's only response.
—
Vincent Poturica lives in Long Beach, CA with his wonderful wife. His stories and poems have appeared or are forthcoming in The Atlas Review, The Baltimore Review, Birkensnake, SmokeLong Quarterly, and elsewhere. He tweets @vpoturica.