HOOT Online, Issue 32, June 2014
THE DEFINITION OF STANZA
by Maggie Blake Bailey
Illustration by Forester McClatchey
Def of stanza

Not just the shoulder, the clavicle.
Bone defined as key, vault, or entry.
Etymologically speaking, the piece
that also bars the door.
Within one body, the arched cathedral,
the March wind raising rain off the oaks.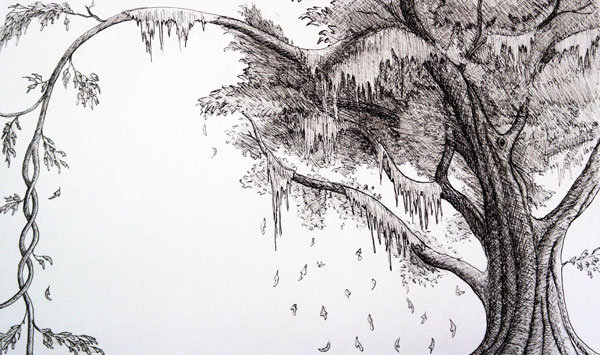 BODY POLITICS
by Renée Hamlin
Body Politics

Sometimes
I am in the habit
of marrying my face
to my palm–
and sometimes the union
of my foot
to my mouth
shortly follows.
–
Maggie Blake Bailey teaches high school English in Atlanta, GA.  Her work has been published or is forthcoming in The Southern Poetry Anthology, Volume V: Georgia, Tar River, Slipstream, and elsewhere.
Renée Hamlin is studying Creative Writng at the University of California, Riverside. Previous, she was an editor at the Suisun Valley Review, and currently she is a Mosaic poetry editor.
–