HOOT Online, Issue 26, December 2013 – Micro Fiction, Poetry, Memoir, Book Reviews
BLOCK ISLAND: THE FIRST VISITOR
by Marianne Botos
Artwork by Ken Eklund
Marianne'sPoem
T. says she's frustrated. The clouds have been too much,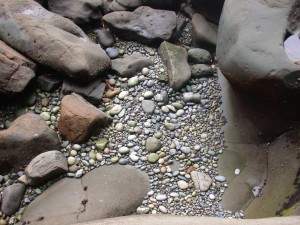 and the sky. She says she never sees the peacock,
though he calls. Tomorrow we will place
the rust colored stones in the jar.
We will haul something new up from the beach:
a bleached log, lobster buoy faded from the sun,
net and wire. It will be home soon,
this place I share without you. A reaping tide:
fish bones, a turtle's painted shell,
rotting out from the inside. I've buried it
by the garden wall, for the earthworms.
Still the sea, like fire, rolls its stones.
CLASSIFIED AD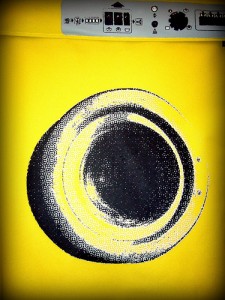 by Joscelyn Willett
Image by Ana Yacobi
I had to wash clothes alone today. My grandmother left me for the summer. It was no fun. Looking for a replacement launderer – someone who will curse fabric softener, lecture me on dating, and occasionally throw away my thongs when I'm not looking.
We Stepped into Something Better than Purple
by Christopher David DiCicco
We Stepped into Something Better Than Purple_Chris and wife Anna Recording

I waited next to her, the brush in my hand still dripping purple paint.
She looked at the barn."I love it."
Lavender drops fell from the bristles.
"I can paint it another shade or cover it in mirrors, if you don't."
A pool of purple formed at our feet, pretty and too small to swim.
The barn's fresh coat and the evening sun mingled on her cheek, casting lilac calm on what we felt.
"No, a purple barn is good, especially in Pennsylvania," she said, smiling and opening the doors, "come inside, you have to see what I've done for you."
"You were in there the whole time?"
"While you painted the barn purple," she finished.
We walked in and I saw where all the mirrors I'd collected had gone.
"It's beautiful," I said—and she smiled everywhere.
—
Marianne Botos is a desert rat who lives in Phoenix with her lover and all their animals. The cat and birds, especially, love listening to poems. An ASU MFA, she teaches at Paradise Valley College.
Christopher David DiCicco loves his wife and children—not writing minimalist stories in his attic. But he does. It's something he has to do, like sleeping or living in Yardley, Pennsylvania. Visit him @ www.cddicicco.com
Joscelyn Willett doesn't think you care about where she graduated or how accomplished she is or isn't as a writer. Find out more at joscelynwillett.blogspot.com.