HOOT Online, Issue 20, May 2013 – Micro Fiction, Poetry, Memoir, Book Reviews
TASTE
by Claire Murdough
Artwork by Lilja Klempan
[audio:http://www.hootreview.com/wp-content/uploads/2013/05/Taste.ClaireMurdough.mp3]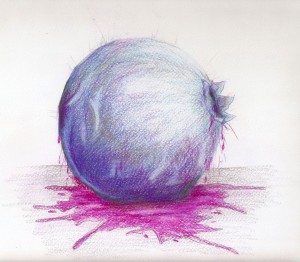 She paused, expecting him to tell her he loved her. Instead, he told her about a blueberry that had rolled under the refrigerator.
"I don't want it to get moldy."
The next morning, at the window, listening as he pulled out from the driveway on his brown Mo-ped she used the handle of a broom to push the blueberry out from under the motor heat of the fridge. Greyed, with a dust which didn't rid with her breath, she rolled it gently between her fingers and rinsed it in the sink. The faucet gave a weak stream; her fingers disappeared with the cold.
Blueberry into her mouth, onto her tongue, she swept the kitchen floor, humming a soft tune until the fruit burst, sour and anemic.
ELEGY FOR A LOVE AFFAIR WITH A BODY OF WATER
by Julia Paganelli
Artwork by Milanka Reardon
[audio:http://www.hootreview.com/wp-content/uploads/2013/05/Elegy-for-A-Love-Affair-With-A-Body-of-Water.mp3]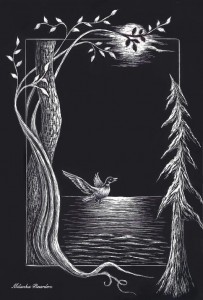 I watched  the wedding of the moon
to the black trees that night
the dusk did not follow our predictions.
She swung in close, drifted out,
and fell into the duck pond. We plucked
her up and skipped her, put our hips into it.
We stripped down that length of forest just one layer—
atoms of hydrogen from the river and
fish scales from skeleton minnows nibbling
the strings of muscles in our toes.
The pines were naked, as if
struck by lightning,
a whiny yellow, their bristles gone.
We were the underneaths of ourselves. It could
have been the six nylon spines
of the acoustic on the radio or the last
of a March chill, the green tinted glass
of hanging lamps
in the low-lit bar across the speedway.
—
Claire Murdough, after graduating from UC Santa Cruz, experimented her passions, working at a chocolate factory in San Francisco before moving to Beijing, China. Recently returned to California, she's happy to be pursing new ventures in writing and imagination, some of which can be seen on her blog, rhymeswithclaire.wordpress.com.
Julia Paganelli is an undergraduate student at Waynesburg University who spends her time cooking for her friends and working with the local food bank and Farmer's Market. Poetry is her first literary love.
Lilja Klempan has always had a creative impulse, and loves to dabble in various forms of art: drawing, writing, photography, jewelry-making – pretty much anything that strikes her fancy at the moment!
Milanka Reardon (milankareardon.com) holds natural science and children's book illustration certificates from the Rhode Island School of Design. She won first place in New England Society of Children's Book Writers and Illustrators' 2012 poster showcase.