Subscribe / Shop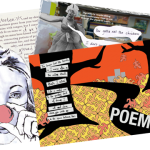 Subscribe to HOOT – $14
Get 12 (twelve!) cool-looking, literature-infused postcards for just $14. That's just a little more than a dollar per postcard! For gift subscriptions, we'll even write personalized messages on the postcard backs.
If you would like for HOOT to auto renew, use this subscription link instead).
For international (non-USA) subscriptions, there is a $6 shipping charge.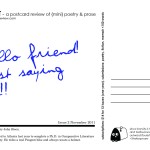 Insta-send a HOOT ("Give a HOOT") – $2
Send a HOOT postcard now, to anyone in the United States! Enter a personalized message at checkout, and we'll hand-write it on the back of the postcard.
To send a postcard outside of the US, click here. There is a $1 shipping fee ($3 total).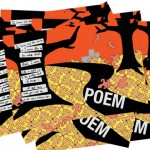 Postcards – $ 0.75 – $ 2. 00 each
Past issues of HOOT can be ordered for use as postcards. The backs are blank for your personalizing pleasure! $2.00 each for 1-3 cards, $1.50 for 4-12 cards, $1.25 for 13 – 20 cards, $1.00 for 21 – 25, $ 0.75 for >25 cards. For international pricing (slightly higher to include shipping), click here.
Please specify issue # in shopping cart– click here to view issues.  Unspecified orders will be mailed copies of the current issue.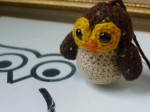 Tiny crocheted plush owl toy – $15.00

At about three inches high, he makes a fantastic key chain or rearview mirror decoration too.
Plastic safety eyes can be replaced with yarn upon request. Different colors can also be used, if requested. Made to order, so please allow 5-8 weeks for delivery.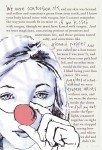 11×17″ Posters (Postcard enlargements) – $20

The 11 x 17″ posters are printed on glossy 14pt paper.
30% of the proceeds go to the author, 30% go to the artist. Price includes shipping.
Right now, only Issues 2 (November 2012) and 3 (October 2012, pictured left) are available. Please specify the issue number in the order.