HOOT Online, Issue 33, July 2014 – Mini Poems
–
AFTER THE CEILIDH
by Catherine Flora Con
Artwork by Susanna Vagt
Memo

We ate oat cakes in a town
where wheat does not grow
pulled the meat from a roasted pig
with our forks and hands
tasting centuries of your family in it,
spilled wine into our mouths
until our eyes grew warm
and the dancers sprawled like words
from my Southern childhood.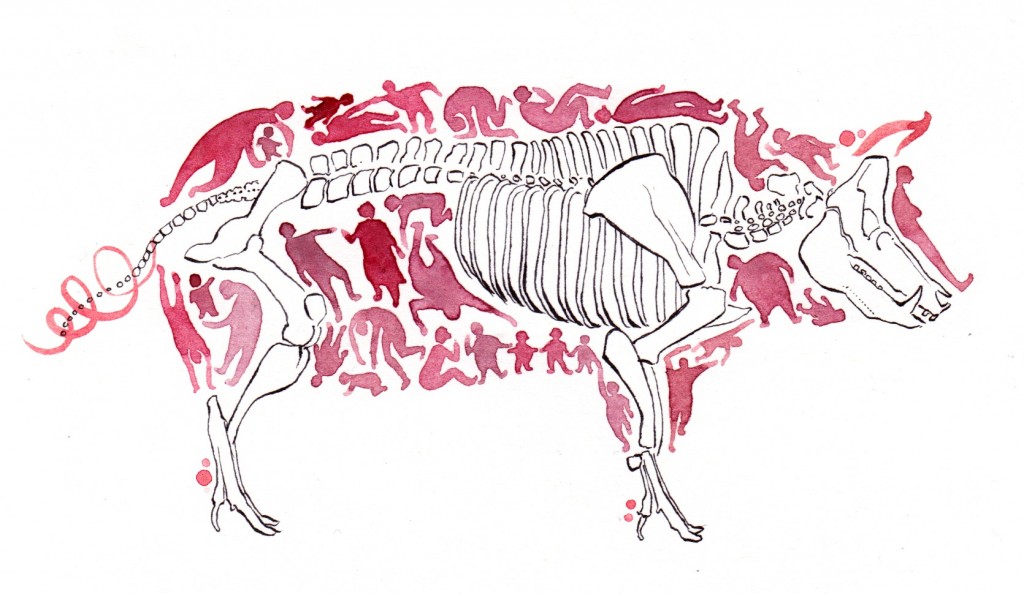 MIDLIFE DATING
by Sally Vogl
He scoots his chair close, lowers his voice, I'd meet you
in the staff lounge tomorrow, but I'm having a colonoscopy.
I imagine a date at Applebee's, conversing about a slippery probe,
coils of tangled colon, dark lumps displayed on the monitor.
He'd put his soupspoon down and mutter suspicions
about his doctor, who hasn't returned phone calls. I'd pat his arm,
tell about shivering in a little room wearing the teal gown, one breast
at a time exposed on cold steel, slammed flat by glass plates, gnashing
my teeth as the x-ray technician scrunched my breast for a retake,
arm overhead, glass closing in, the thin robe flung off my shoulder.
—
Catherine Flora Con recently received her MFA in fiction from Boston University, where she coordinates the creative writing program. She is at work on a novel full of music and mischief.
Susanna Vagt is a friend in Boston who designs children's books at Houghton Mifflin Harcourt and draws on old tree bark or paper or www.susannavagt.com.
Sally Vogl has an MFA from CSU-Fresno. Some of her work has appeared in The Christian Science Monitor, The Comstock Review, and Writers' Journal. Sally teaches visually impaired students.
—