HOOT Online, Issue 22, July 2013 – Micro Fiction, Poetry, Memoir, Book Reviews
WEDDINGS / BODAS
by Blanca Varela
Translation by Emily Thompson
Artwork by Emily Thompson
Spanish audio read by Joy Christian
[audio:http://www.hootreview.com/wp-content/uploads/2013/07/Varela_Thompson_Weddings.mp3]
[audio:http://www.hootreview.com/wp-content/uploads/2013/07/Varela_Bodas.mp3]
Lost in the fog                                                 Perdidos en la niebla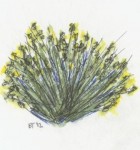 the hummingbird and his lover.                 el colibrí y su amante.
Two stones thrown by desire                       Dos piedras lanzadas por el deseo
meet in the air.                                               se encuentran en el aire.
The retama is alive,                                       La retama está viva,
it burns in the fog,                                         arde en la niebla,
inhabited.                                                        habitada.
FIRST POEM
by Moriah Cohen
Photograph by Sabrina Occhipinti
[audio:http://www.hootreview.com/wp-content/uploads/2013/07/Moriah-Cohen-First-Poem.mp3]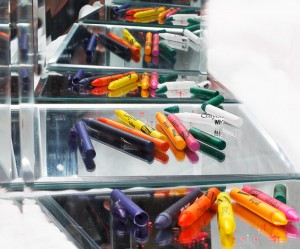 Waiting for lunch, the baby tries
to embed his crayon in a giant
fun-straw. He does not yet have
the words to name the two toys
"cylindrical" or describe the infinite
strings knotting all of us together.
Still, he fastens, moors the trinkets
exhausting every angle as though
the right combination could explain
how he puzzles into the world.
A MAN, A TUNA
by David Solomon
Artwork by Rachael Cannady
[audio:http://www.hootreview.com/wp-content/uploads/2013/07/David-Solomon-A-Man-A-Tuna.mp3]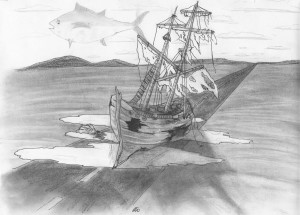 A man was walking down the street. Only it wasn't a street, it was a staircase. And he wasn't walking, he was tripping.
But this staircase was really the deck of a boat. And when I say a man, what I mean to say is a young girl.
This young girl on the deck of this boat wasn't tripping so much as she was standing – albeit unsteadily.
She grabbed a railing for support. A strong wave crashed against the boat. It sent this young girl over the railing and into the water.
The girl's father, who had been steering the boat, saw this happen. He dove in after her.
To be honest, though, he wasn't her father or even a man. He was actually a tuna fish.
And that is of little help.
THE MONEY MARIA OWES ME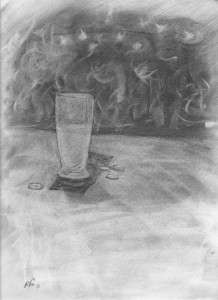 by David Solomon
Artwork by Rachael Cannady
[audio:http://www.hootreview.com/wp-content/uploads/2013/07/David-Solomon-The-Money-Maria-Owes-Me.mp3]
I ran into Maria outside the bar. Not literally, but you know, the kind where you stumble on the inside instead. I said hi because it seemed slightly less awkward to acknowledge her than to avoid her eyes. There wasn't much to say. She looked into the distance. I scratched the back of my neck.
I broke an uncomfortable silence with, "Any chance you have ten bucks for that time I spotted you at the Whig?"
She dug in her pockets like an old man fumbling for his glasses in the dark.
It's just another thing of mine I'll never get back from her.
—
Moriah Cohen is a Jersey poet who enjoys the company of her two boys, as well as plunging into the January surf. She currently adjuncts at Ramapo College.
Blanca Varela (1926 – 2009) was a Peruvian poet lauded throughout and beyond Latin America. Her first collection, Ese puerto existe ("That Port Exists") was published in 1959. Although Varela eventually won Spain's most prestigious poetry award, no volume of her work has yet been published in English.
Emily Thompson is from Seattle but has lived in Oaxaca, Calatayud, and Austin. She wrote her MA thesis at the University of Washington about translating Elizabeth Bishop into Spanish.
David Solomon learned to write by playing with action figures as a child. He now travels the country to kill weeds and publishes a zine called Travel On about those experiences.