HOOT ONLINE, ISSUE 54, SEPTEMBER 2016 – MICRO FICTION, POETRY, MEMOIR, BOOK REVIEWS
The Year Without a Summer (June 1816)
by Carolyn Oliver
Art by Benjamin Oliver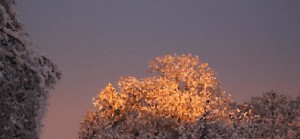 When we woke all was froze: the tender grasses, the thyme curling
in its pot, the water in the horse's trough, one solitary stick of straw
reaching through the ice for the sun that isn't there, not this year, no.
Bessie drew white breath and the children cried for shivering until I
sent them running for the sheep, shorn too soon. But they came back
crying, crying, because there'll be no summer this year, no mowing,
no corn in the milk, no fat coneys, no honey for the board, no roses
for my Bessie's long black hair. All is froze.
Jellyfish
by Henry Goldkamp
Art by Young & Sick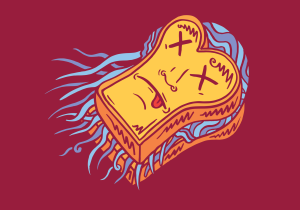 My hair-bear roommate
was hung over. Me too.
I make a grilled cheese sandwich,
barely. First bite all the cheese

spills onto my barefoot, scalding hot.
I shake him out of hibernation.
He scolds me. I tell him he needs to pee
on my foot. He's tired and obliges me.
Wikipedia: It's not grilled cheese burns,
but jellyfish stings. My bad, man.
GONE FISHING
by Ronnie Sirmans
Artwork: Carlie A. "Preacher" Sirmans with a mess of fish (circa 1970s)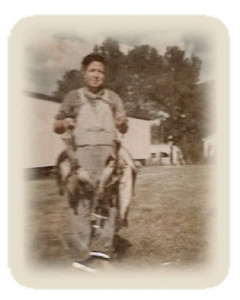 Before going fishing, we would get some bait from cricket trees.
We shook the browned chestnut-like burs to hear the fruit inside,
cracking them open and catching crickets before they hopped away.
They'd squirm at the prickly hook as if it reminded them of home.
I give my Schwinn 
to Sequoia, because she doesn't have a bike yet. She is from Southern California, tall,

blonde, 21. She moves like a tree, so I don't think it's a dumb name anymore. I only hear her through our
common wall, eating burritos with her friends, giggling all night on mushrooms, playing the same five
chords on her guitar. I get bits of what she says at three in the morning. "I have a slug infestation in my

room."  I try to imagine what this looks like. In my half sleep I picture them languidly climbing up her
windowsill, leaving rainbow trails in their wake. I think of my own line of marching ants that start from a

certain corner and exit near my window. I would rather have the slugs.
–
A graduate of Ohio State University and Boston University, Carolyn Oliver lives near Boston with her family. Her work has appeared in Midway Journal and Hermeneutic Chaos and is forthcoming from Valparaiso Fiction Review.
Henry Goldkamp lives in New Orleans with a spirit of gratitude; if you're reading this, he appreciates it. For more work/info, google "henry goldkamp" with a fresh drink of your choice.
Art by Young & Sick. Young & Sick is Nick van Hofwegen, a friendly musician and designer who will gladly tell you a joke. Follow him @youngandsick for cool drawings.
Ronnie Sirmans lives and works in metro Atlanta. His poetry has appeared in The South Carolina Review, Deep South Magazine, The Behemoth, Gargoyle, and elsewhere.
Becca Yenser just drove from Portland, Oregon to New Mexico with a U-haul and a dog. Her work appears in decomP, Metazen, Paper Darts, and >killauthor. You can find her newest writing on Ink Node.