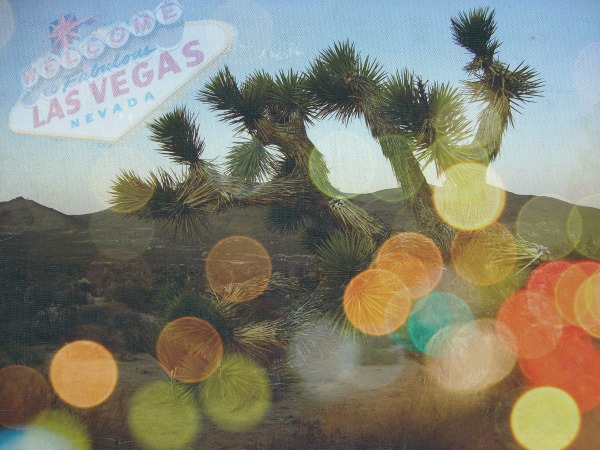 I lived in Las Vegas from summer 1991 until September 1992. My first husband was Air Force, stationed at Nellis. We got married my senior year of college (the first gulf war helped me into a bad decision) and I moved out west after I graduated. We lived in an apartment complex on N. Nellis Blvd. It had grass (!) and backed up to a wash. Sometimes I'd see a roadrunner in our parking lot. Dust devils, tumbleweeds, joshua trees… for a girl raised on the shores of the Great Lakes it was quite an adjustment. It was so beautiful and barren. I'd go down to the Mirage to stand by the volcano just to feel water in the air. Then when the rainy season came the wash would fill in a matter of minutes and the desert got this sheen of flowers. Lovely. I remember finding my bearings by which mountain peaks I could see and pulling over to watch planes circle into Nellis. I saw a B2 bomber once. Scary M-F-er, that one. And the heat. The breeze like a hair dryer. I became nocturnal. What a crazy chapter in my life! I'm glad for it, though. The desert really is gorgeous, and the mountains, too.
Although circus clowns
startle me, here even sand
blooms like confetti.
– prose by Jennifer Tappenden & poetry by Heather Lang
###
Poet's Note:
Lately, my writing has been inspired by a sense of place, like downtown Las Vegas, and also by what I've been reading while drinking iced coffee at PublicUs, a local indie coffeehouse. I've just revisited Matsuo Bashō's (1644-1694) The Narrow Road to the Deep North as translated from the Japanese by Nobuyuki Yuasa. This work is a travel diary featuring haibun: prose laced with haiku.
Although Bashō often wrote both the prose and the poetry himself, I found myself inspired to respond to my dear friend Jennifer Tappenden's casual yet beautiful letter about her own time in Las Vegas. When she emailed me, Jen had no idea that I might want to use her words for a more public project. At that time, neither did I. The prose is hers exactly as it arrived to me in an email, and I wrote my response, the haiku, after an unforgettable night at the Gold Spike in downtown Las Vegas. This collaboration feels, to me, fitting. Although I moved to Nevada barely one year ago, this place has brought me more friendship than any other.
Bios: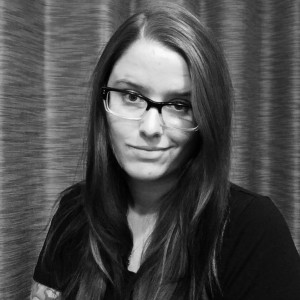 Heather Lang is a poet, literary critic, and adjunct professor. Nevada's NPR member radio station has twice interviewed her this year about her writing, and in June she served as the Las Vegas Poets Organization's featured poet. Her writing process is currently on exhibit at the Nevada Humanities Program Gallery. Heather's poetry and prose have been published by or are forthcoming with HOOT, The Normal School, Paper Darts, Pleiades, and Whiskey Island, among others. Heather holds an MFA from Fairleigh Dickinson University, and she serves as an editor with The Literary Review.
Jennifer Tappenden is the founding editor of Architrave Press. She earned an MFA in poetry from the University of Missouri – St. Louis where she also served as the university's first Poet Laureate. Her poems have appeared in The Baltimore Review, Flyway, Compose and elsewhere. Jen is poetry editor for december magazine, an organizer of both the St. Louis Small Press Expo and UMSL's Natural Bridge Debut Writers Series. Her chapbook, Independent City, is forthcoming from Wells College Press where she will also be a visiting writer to coincide with its release in the Fall of 2016.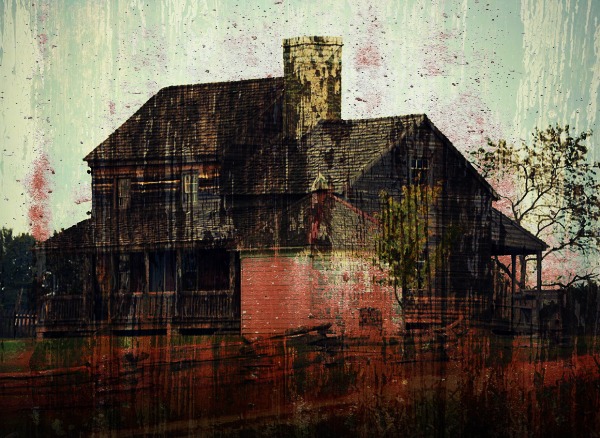 He ate all the pigs first because the Old Testament said he couldn't. Then he ate the horses, because the Dutch consider it delicacy and he dislikes animals who appear to work harder than him. Eh oh, eh oh, ee. He rounded up the rest in the barn. The heifer was worried her milk would sour when he spoke, so she stood as far from the hay bale podium as possible, tapping her hooves against the flimsy walls. Trump said he wanted to build a better wall, barbed wire and concrete; this is a farm and nobody wants in, explained the goose, so Trump picked him up and threw him in the air. Go back to Canada, he yelled. The goose, over her shoulder, replied, I'm not that kind of Goose, but Trump was already stamping his foot and making animal sounds with his mouth. The best animal sounds. Eh oh, eh oh, ee. A storm murmured outside, softly at first, and then coughing cancer cadence. Water dripped into buckets on the dirt floor. There was a knock on the door. The goats, the gatekeepers, moved to open it up. Trump said, No keep it closed. We have no way of knowing who is out there. The goats brayed. They knew it was the farmer's son next door who sometimes comes to play on the rusted tractor. They must endure an extensive wetting process first, said Trump. He was wearing leather shoes imported from Peru. The llamas were worried, even though they were born on the farm. Nobody knows where Trump came from. Eh oh, eh oh, ee.
Artist Statement
The political world is absurd right now. Truth has turned into non-Newtonian fluid—solid when settling into the biased brain, and liquid when confronted with repudiating evidence. There is no better case study in the mutability of truth right now than the presidential campaign of Donald Trump, who has somehow, amid his absurdity (or perhaps because of it) amassed a following none but the most cynical would have predicted a year ago. He is profoundly easy to make fun of—the words that leave his mouth are, without exception, nonsensical. And yet he doesn't care, and neither do his supporters. So he prattles on. Muslims are terrorists. Mexicans are rapists. He could state that Earth is flat and there are lizard people living at its center and none of this would matter. Except it does matter, because when truth degrades, so does the basis of reasoned argument. Feeling becomes a good enough benchmark for policy. He seems to act more like a petulant child than a politician—a narcissistic one to boot. "Old Donald Had A Farm" is my attempt to confront his absurdity—with my own absurdity.
Parables are powerful; they take the recognizable and turn it on its head. Often this is uncomfortable. Anne Sexton, in her book of poems Transformations, took fairy tales and twisted them into not-quite familiar forms, to the effect of exposing the misogyny engendered by the original tales. It is the diffraction of the comfortable that carries power. In "Old Donald Had A Farm," I take a comforting ditty about the sounds animals make and turn it into a cautionary tale. There is a meeting. There is a rally. The animals are confused, because the inmate has escaped the asylum and set up shop at their farm. Sometimes the only way to confront absurdity is with your own absurdity. It also helps keep you sane. And hopefully it makes you laugh, too.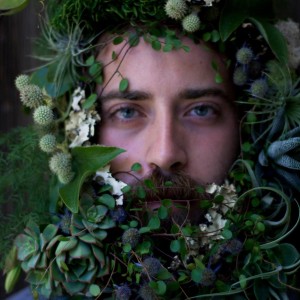 Alex Simand holds an MFA from Antioch University Los Angeles. He writes fiction, creative nonfiction, and poetry. His work has appeared in Red Fez, Mudseason Review, Five2One Magazine, Angel City Review, Drunk Monkeys, and others. Alex is the former Blog Editor for Lunch Ticket and past Editor of Creative Nonfiction and Diana Woods Memorial Prize. Find him online at www.alexsimand.com or on Twitter at @AlexSimand.
I've heard a lot of arguments against photography as an art form. One of my least favorites is "all you do is push a button! How is that art?" Well, plebeian, I'd be happy to explain that to you, if you'd allow me.
Being a photographer isn't just b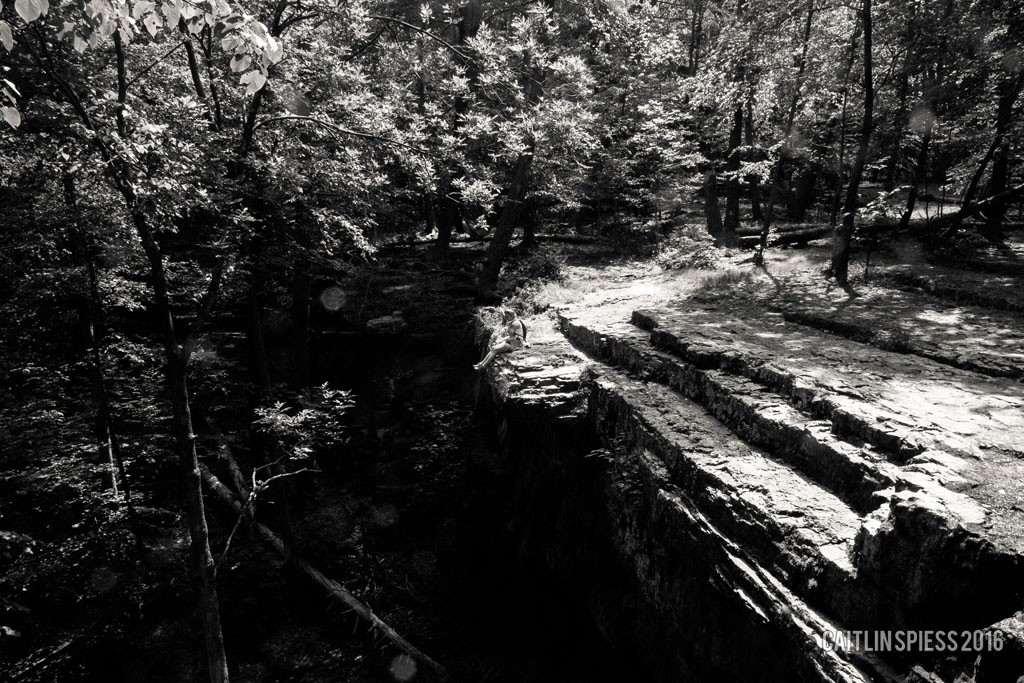 eing a person with a camera. Everyone has a camera these days. Everyone has a dozen photos of their cat or their own face or their cars. This isn't what makes a photographer. What makes a photographer is the awareness of taking the photograph. Lining up the frame and having an awareness of self and timing and waiting for just that perfect moment or for the light to move or the leaf to fall. Photography is a lot about waiting, but it's also about being proactive. For example: take this image. (Ringing Rocks Cliff)
Obviously, this isn't a shot a person can take from anywhere. A hike is involved, a friend who is crazy enough to sit on the edge of a 30 foot drop is needed, and your own crazy self needs to climb up on a boulder that's slick from the water kicking off a waterfall and your boyfriend is grabbing onto the back of your pants because, "You literally just said you could have majored in falling down! No I'm not letting go!"
Photography is a lot of sitting and waiting and a lot of sitting in front of a computer these days. I personally do a lot of editing there, especially since I shoot digital. But I never feel "hands off". Sometimes "hands on" can be as simple as making decisions. Choosing to depart from your comfort zone and step out of yourself to make something incredible is why I do what I do. I want an opportunity to make some incredible art, I need to travel to that opportunity, whether it's down the road to a studio or up a mountain. Being able to work out an exposure problem or a flash connection issue while I'm on the side of a cliff isn't a problem all photographers face, and I understand that. However, there's something ultimately rewarding about fixing issues like this on the fly. Knowing my equipment like an extension of my own body is part of being an artist. I know a painter who feels the same way about his brushes, a dancer who feels this way about her shoes.
Photography has always been seen as a way to distance yourself from situations. War photographers speak about using their cameras as ways to remove themselves from the horrors of reality, and instead focus on the viewfinder. I disagree. I have always found that documenting an event, person, or object makes it stand out ever clearer in my mind and memory. Photography is as hands on as it is eye opening. The litany of choices you have to make in order to create one single frame can take hours. Today's "shutterbug" mentality puts a haze over how photography is viewed. Taking a million photos doesn't make you a photographer. Obsessing over details and doing something kinda crazy just to get that one shot? That's more like it.
—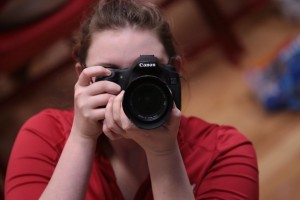 Caitlin Spiess is a photographer and writer from Bucks County, PA who holds a B.S. in Fine Art Photography from Hofstra University. When not having an existential crisis about her legacy, she's either photographing her cats or searching for her next project. You can find more of her work at www.ill-productions.com.
We're starting something new here at HOOT, which is getting the inside perspective from artists that we admire. This includes their artistic vision for one of their pieces, a critical response – or close read – of a work of art, and how different artists approach their medium. We're starting with the brilliant Alex Simand, who you'll hopefully be seeing a lot of in the future. He details the thought and POV behind his poem dealing with the recent Brexit.
Artist Statement:
The world appears to be tearing at the seams. Driven by populist sentiment, once-celebrated progress in the realm of global citizenship, pluralism, and multiculturalism has revealed deep schisms in societies around the world and a ubiquitous form of xenophobia that is, at times, inexplicable. We know this implicitly here in the US, thanks to the presidential campaign of [redacted], but it's with the utmost terror that I observe the widespread nature of a fear undeniably rooted in white supremacy and colonialism. Britain has voted to leave the European Union. Let's take back control, goes the pithy refrain from the separatists. The sentiment strikes me as infantile, in the truest sense. The same nation that once boasted of the sheer size of its sprawling empire has become afraid of meddling newcomers. Though I try to empathize with any point of view, this movement towards sequestration makes me imagine a small boy gripping his blue and red rubber ball and yelling mine at passersby, though no one has ever threatened to take it from him. And so this is the image I play with in my poem, Brexit Strategy.
Brexit Strategy
Brackish child broods in sandbox
his pail
his shovel
draws a line in white, brazen,
defiant as duck-billed platypus—
he browsed
the brown skinned kids,
brought them home,
branded them British,
but playtime is over,
he says
he built this—him!—
brick by brick
though he is a child
outgrown his britches
full
of bangers and mash
and the kind of certainty
that murders babies in brambles
Mine, says child, brine-sour,
folded in a hole he dug
in the seventies—
a bronchial mist settles in,
the cold hug of absent mother:
polite disappointment
in her crown,
but child brackets his purview
with moats that tear his fingernails,
imported crocodiles with toupees
and elaborate insults
he is brusque and serious
when he says, breathless,
we are closed for business,
who's laughing now?
but nobody gets the joke
when he burns the bridge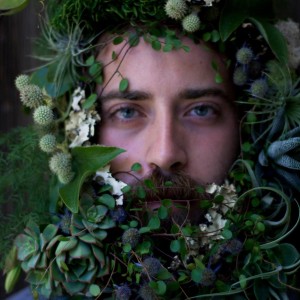 Alex Simand holds an MFA from Antioch University Los Angeles. He writes fiction, creative nonfiction, and poetry. His work has appeared in Red Fez, Mudseason Review, Five2One Magazine, Angel City Review, Drunk Monkeys, and others. Alex is the former Blog Editor for Lunch Ticket and past Editor of Creative Nonfiction and Diana Woods Memorial Prize. Find him online at www.alexsimand.com or on Twitter at @AlexSimand.
Four! It's a magic number. Yes it is. It's a magic number.
Because it's our fourth birthday today.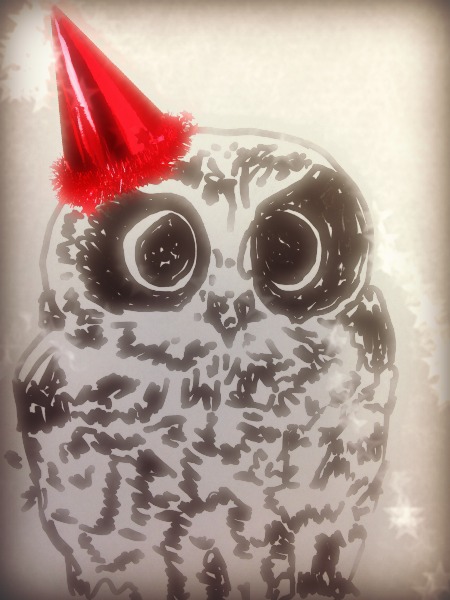 It doesn't seem entirely fathomable that we've been doling out zest-infused literary postcards to you for four whole years. If HOOT was a person it would have already mastered the beginnings of language acquisition (and then on its way to submitting us some thought provoking flash fiction or poetry).
From our first postcard to our most current, we've delighted in offering up quality literature in surprising and innovative ways. And throughout the years our small team of dedicated lit nerds has had the honor of discussing our lust for awesome words from coast to coast.
And we want our fourth year to be the most boss yet. Any ol' magazine can celebrate a five year anniversary, we want to celebrate our four year instead. That means doing special and surprising things such as creating an apocalypse theme postcard anthology, or re-interpreting a vintage issue, and of course updating our online issue (and tons more).
But mostly, we want to thank all of you for hanging out with us while we explore the world of flash fiction and single issue poetry. There is no way that we would be where we are now without the support of our readers, contributors, subscribers, and well-wishers.
To four more years, and to forty more years, and to four hundred more years: we look forward to sending you the ultimate bite-sized literature forevermore.