HOOT Print Issue 23, August 2013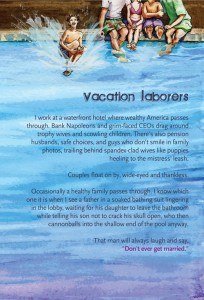 VACATION LABORERS
by Lucas Ahlsen
artwork by Juliette Watts
Lucas Ahlsen grew up in the suburban forests surrounding Portland, Maine. More of his work can be found at vikinglightning.tumblr.com.
Juliette Watts is an artist who lives near Philadelphia. She works as scientific illustrator for the Forest Service. This year, her first picture book was published about trees.  You can view her portfolio here: Juliettewatts.squarespace.com
To purchase copies of this issue (which can be used as postcards), please go here and specify "Issue #23″ at checkout.