HOOT Print Issue 21, June 2013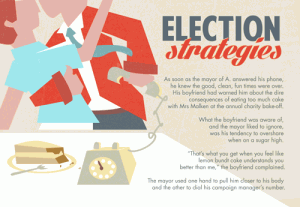 ELECTION STRATEGIES
by Melanie Boeckman
Artwork by Kelly Meissner
Melanie Boeckmann is a writer and researcher. Melanie lives in Germany, where you can reach her on Twitter (@m_ian) or at http://theincrediblemeeow.tumblr.com. She is fond of cupcakes and record players.
Kelly Meissner
is an Illustrator/Designer living in the Philadelphia Area. For more of her work, visit
www.kellymeissner.com
To purchase copies of this issue (which can be used as postcards), please
go here
and specify "Issue #21″ at checkout.