HOOT Print Issue 20, May 2013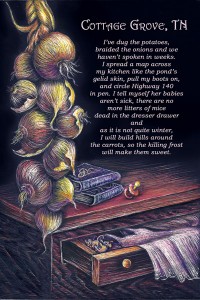 COTTAGE GROVE, TN
by Sarah Kilch Gaffney
Artwork by Milanka Reardon
Sarah Kilch Gaffney lives in Maine with her husband and daughter.  In her spare time she is pursuing a nursing degree and attempting to perfect her homemade caramels recipe.
Milanka Reardon (milankareardon.com) holds natural science and children's book illustration certificates from the Rhode Island School of Design. She won first place in New England Society of Children's Book Writers and Illustrators' 2012 poster showcase.
To purchase copies of this issue (which can be used as postcards), please go here and specify "Issue #20″ at checkout.